posted 20 Jul 2017 21:19, edited 20 Jul 2017 21:19
Few bits for sale. All prices include recorded delivery within the UK. International postage will be extra.
Porter Yoshida Beat Boston bag, cotton canvas with elk leather zipper pulls, size small, black
Proxied this from Japan since it's 340 Euros(!) on the Porter Europe site:
http://www.porter-yoshida.com/beat/copy-of-porter-beat-boston-bags
Paid around £175 after shipping and fees.
Good used condition. The elk leather on the handles is a bit discoloured from wear (see pic) but the bag is otherwise in very good condition. Made of hard wearing canvas so virtually indestructable. The zip pulls are all elk leather and there is an internal water repellent pocket made of tarpaulin which has a waterstop zipper. Quality of construction is excellent. Made in Japan.
Please note that the bag doesn't come with the body strap as I never used this and have subsequently misplaced it. You can obviously clip on any body strap you want though.
The bag is a size small
Width: 36cm
Height: 20cm
Depth: 16cm
£59
>
£45
Margiela suede and leather GAT low, black/grey, size 41 (UK7)
Purchased from Liberty for £260.
Used condition. Still look fine from the outside but I've worn a hole in the heel lining of the left shoe (see pic) - hence the low price. This is obviously easy enough to cover up with a bit of moleskin but I'm a bit OCD about these things so have just bought a new pair.
Size 41 (UK7). Fit true to size.
£49
>
£45
Patrik Ervell alpaca pocket sweater, charcoal melange
Used condition. There is heavy bobbling/fuzz near the armpits (see pic) and also a bit of bobbling on the back on the sweater - hence the low price. Not really noticeable when worn though.
Pit to pit: 19"
Length: 25"
]£35
>
£30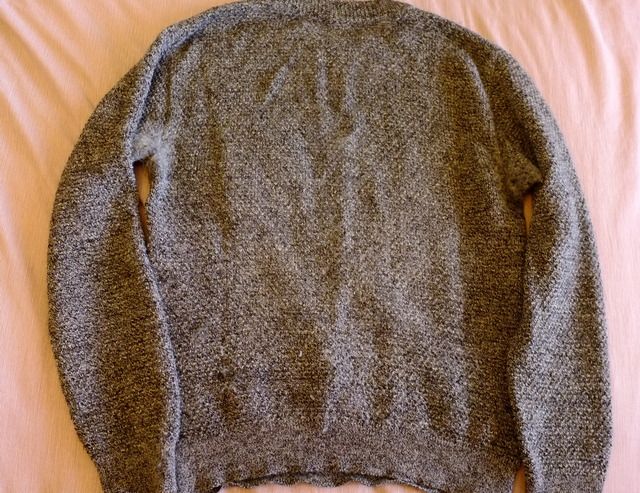 Acne Roc Drake jeans, blue/black, 30 waist / 30.5 inseam - chainstitch hemmed
Good condition (N.B. there is one small hole near waistband - see pic. I bought these as 'new without tags' from Grailed and the hole was there when I received them - it hasn't got any bigger since then, which is why I haven't bothered to mend it, but would be an easy fix to sew shut).
Blue/black wash selvedge denim. Slim fit with tapered leg. Made in Italy.
Waist: 16.25" (should shrink back to closer to 15.5 with a wash)
Inseam: 30.5" (chainstitch hemmed so nice roping effect)
Front rise: 9.5"
Back rise: 15.5"
Thigh: 11"
Knee: 7.75"
Hem: 6.75" (18cm)
£29
>
£25