9 Oct 2008 14:08
Since seeing andys glasses model and thinking how, in the pics, she reminded me of a stingray - i've spent the past 15 mins looking at stingrays.
Ive learnt that:
their faces are really creepy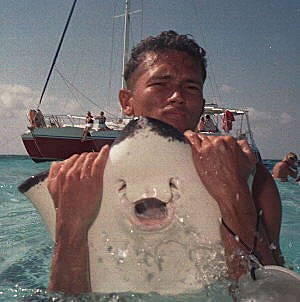 no cv
they can be really big!
they can jump high
http://www.youtube.com/watch?v=7Gx74KzHsTM&hl=en&fs=1
which can lead to deaths:
A medical examiner says a boater died from head trauma from a 75-pound spotted eagle ray that jumped out of the water in the Florida Keys.
Judy Kay Zagorski, of Pigeon, Mich., was sitting in a boat going 25 mph when the spotted eagle ray, with a wingspan of 5 to 6 feet, leaped out of the water, said Jorge Pino, spokesman for the Florida Fish and Wildlife Conservation Commission.

The 57-year-old woman's father was driving the boat on the Atlantic Ocean side of Vaca Key, Pino said.

"He had absolutely no warning. It just happened instantaneously," Pino said.

The coroner's initial examination has determined the Michigan woman died from the impact with the eagle ray. The family requested that no autopsy be performed.

Authorities say Zagorski was not stung by the ray's barb. Wildlife officials say such deaths are extremely rare.

The stingray also died from the impact, officials said.

Spotted eagle rays can weigh 500 pounds and have a wingspan of up to 10 feet. They are known to occasionally jump out of the water but are not aggressive and use the venomous barb at the end of their tail for defense.

The rays are protected in Florida waters and are typically seen swimming on the water's surface.

"Rays jump to escape a predator, give birth and shake off parasites," said Lynn Gear, supervisor of fishes and reptiles at Theater of the Sea in Islamorada. "They do not attack people."
and also, steve Irwin was not the only one to get stabbed in the heart
"James Bertakis, 81, was boating with his granddaughters near the town of Lighthouse Point, 15 miles (24 kilometers) north of Fort Lauderdale, when a three-foot-wide (one-meter-wide) spotted eagle ray bounded out of the water and fell into the boat.

As Bertakis struggled to get the ray out of the vessel, the animal lashed its ten-foot (three-meter) tail, piercing the man's heart with its venomous barb.
I wonder how they're so good at getting our hearts.